Tyson Says Labor Shortage Hits Poultry, Lifts Sales View on Beef
Tyson Foods Inc. warned it's struggling to meet rebounding chicken demand because of a worker shortage and slow hatchings, even as a strong beef market will boost overall sales.
The biggest U.S. meat company is seeing robust demand as the world economy mends from the pandemic, and it's raising prices across businesses to pass through higher animal-feed costs and other expenses. That will help make up for thinner returns in chicken, where labor tightness means that plants are operating at about 80% of capacity. Tyson also said it can't maximize profit in its pork unit because of a dearth of skilled labor to strip down carcasses.
"It takes about six days right now to get five days' worth of work done," Chief Operating Officer Donnie King, who is also group president of the poultry business, told analysts on a conference call Monday. "So, it's impacting capacity and cost."
King also said Tyson was changing a male breeder chicken after a downturn in hatchings that will persist until next year. "Quite frankly we made a bad decision on" the male chicken, King said.
Meat companies initially were slammed by the coronavirus last year as thousands of U.S. food-plant workers got sick and hundreds died. Absenteeism at Tyson's meat plants is about 50% higher than it was prior to the coronavirus pandemic as workers struggle to find childcare, have higher-paying opportunities elsewhere or rely on federal stimulus checks, King said.
"People just aren't coming to work," he said.
The Springdale, Arkansas-based company expects fiscal full-year revenue of $44 billion to $46 billion, according to a statement Monday. In February, it said revenue would be at the upper end of $42 billion to $44 billion. Tyson's adjusted earnings during its fiscal second quarter that ended April 3 were $1.34 a share, compared with the $1.12 average of analysts' estimate.
"We're seeing substantial inflation across our supply chain, which will likely create margin pressure during the back half of the year," Tyson Chief Executive Officer Dean Banks said in the statement.
Consumers so far appear willing to absorb higher costs that food manufacturers are passing along.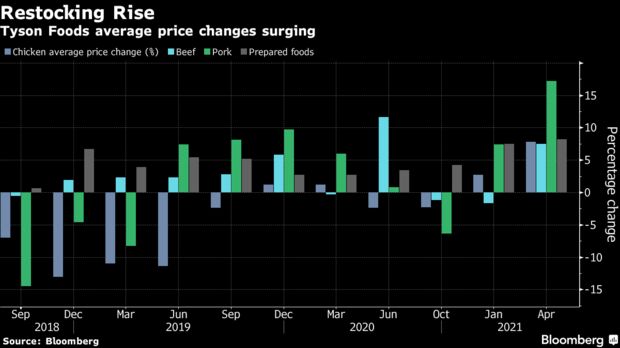 Sales were $11.3 billion, up from the $11.2 billion analysts had expected. While prices of beef, pork, chicken and prepared foods all rose during the quarter, volumes declined.
Worker illness and deaths prompted shutdowns at factories last year as measures such as temperature scanners and plastic dividers were installed to protect employees. Meanwhile, retail sales of meat soared as consumers prepared more meals at home. Now, with the global economy reopening, workers are scarce. Pilgrim's Pride Corp., the second-biggest U.S. chicken producer after Tyson, recently said it was installing more automation at poultry plants due to the worker shortage.
Still, prospects are for protein demand to increase in the short- and long-term. Tyson in April opened its first new poultry plant in 25 years and last week announced a new vegan burger and other plant-based foods as the company seeks to compete with vegetarian-friendly upstarts including Beyond Meat and Impossible Burger.
"Given the nature of our business, demand for food and protein may continue to shift amongst sales channels and experience disruptions, but over time we expect worldwide demand to continue to increase," the company said.
Tyson shares, which have climbed about 22% this year, swung between losses and gains on Monday, falling as much as 3.6% and rising 0.7%.
Via Bloomberg — With assistance by Karen Lin