Beef Inspections as a tool to Grow your Business
UBI

Beef Inspections –
Your outsourced Quality Meat Control
Highlight of last month

: Rump & Loins Hilton
Today we are sharing a real life example of how Beef Inspections will help you grow your business:
Every month we select one case-study among our various quality meat controls performed between Uruguay, Argentina and Paraguay.
To showcase how the affordable UBI Beef Inspections can help you Grow your Business. Minimizing the possibility of a losses/claims as well as improving the relationship with your suppliers and opening new doors.
The highlight of this month comes from a supplier in South America. Especially relevant is that this company is already exporting beef to the main markets in Europe. Thankfully the UBI Inspector was able to detect the problem.
Destination

:

Europe

Situation Detected: The slaughterhouse changed the cartons supplier and the system was calculating tare weight of cartons with the previous supplier's info. Furthermore, the tare weight of the cartons was calculated without the carton dividers.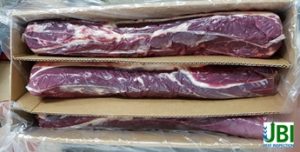 This subtle difference in such an expensive product made a big impact in the aggregated value of the container.
The UBI Beef inspector was able to detect the problem and provided the supplier with the guidelines to amend the situation in order to avoid headaches and claims for both parties.
This type of situations happens every day and can be easily avoided with the presence of a QC meat inspector from UBI.
UBI Beef Inspection is the first and fastest-growing Quality Meat Inspection solution in South America. Always dedicated to ensuring that every Importer, Supplier or Consumer achieve the greatest quality with their products. Therefore, helping you Save Money and Time!
Our inspections start as low as $299, try one and experience the difference.
The rise in foodborne outbreaks, globalization of food supply and stringent international food safety regulations drive the Food Safety market .
Ask here for a FREE sample PDF Audit report or our PDF Brochure
We look forward to working together and becoming your outsourced Quality Meat Department, helping you reduce claims and improve your relationship with the suppliers today!
Every month the team at UBI Beef Inspection publishes industry insights covering key items Meat professionals need to be aware of to stay ahead. Moreover, as a bonus for referring a new customer interested in an affordable Quality Meat Control, we provide a FREE BI report of your industry!
Want to stay ahead of your competitors and improve your relationship with your suppliers? Try with 1 inspection and follow-us for the latest news in the Meat industry: